Branding
Expand the drawers below to access and download GPS assets.
For more information and resources, please visit UC San Diego Brand Guidelines.
(Refresh your browser cache to see the changes; instructions here.)
Updated 10/24/23
Often we are asked to provide a one-paragraph description. While that provides a challenge to summarize all that we do, we ask that you use the following:
About the School of Global Policy and Strategy
At the UC San Diego School of Global Policy and Strategy (GPS), the search for greater solutions to some of the most pressing global policy challenges of our time starts right here — from climate change to food security, democracy, migration, human rights, security and much more. At GPS, students learn from world-class professors while surrounded by a diverse body of students from all walks of life, creating a global, holistic classroom experience in our degree programs. And our San Diego location gives us the freedom to seek progress untethered from tradition and lean into the power of the Pacific Coast as a hub of innovation, diversity and proactive problem-solving. From here, you can make an impact anywhere. Learn more at gps.ucsd.edu. 
Official School Name: UC San Diego School of Global Policy and Strategy
Use of the University Name: UC San Diego or University of California San Diego (no comma)
Address Line: 9500 Gilman Drive, # 0519, La Jolla, CA 92093-0519
Phone Numbers: standard format is 858-XXX-XXXX
Social Media Line: Follow GPS on Facebook, Twitter, Instagram and LinkedIn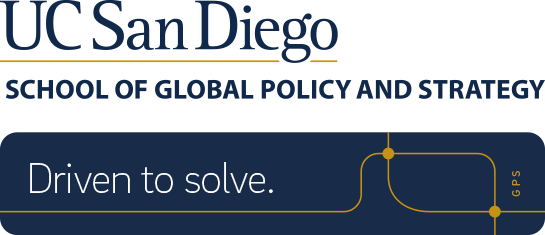 Logo: if you choose to include, use the school's formal logo that meets campus brand guidelines in the PNG or GIF file format provided: GIF | PNG
Font: use 10-12pt sizing for best readability and choose fonts such as Calibri, Arial, Verdana, Georgia, Times New Roman and Courier, many of which are often referred to as web safe fonts
Options
Unit/Center Name: please ensure the school's official full name is included
Use of Pronouns: see UC San Diego's recommendations 
Promotion: if you include, be sure to hyperlink URLs 
Colors: all black is best for readability; if you want to add color, please select from UC San Diego approved color palette
Instructions
Gmail – if using the logo, embed the image and choose "medium" 
New guides coming soon.
UC San Diego's Branded Color Palette

Refer to UC San Diego's Accessible Brand Color Combinations
UC San Diego/GPS Branded Color Palette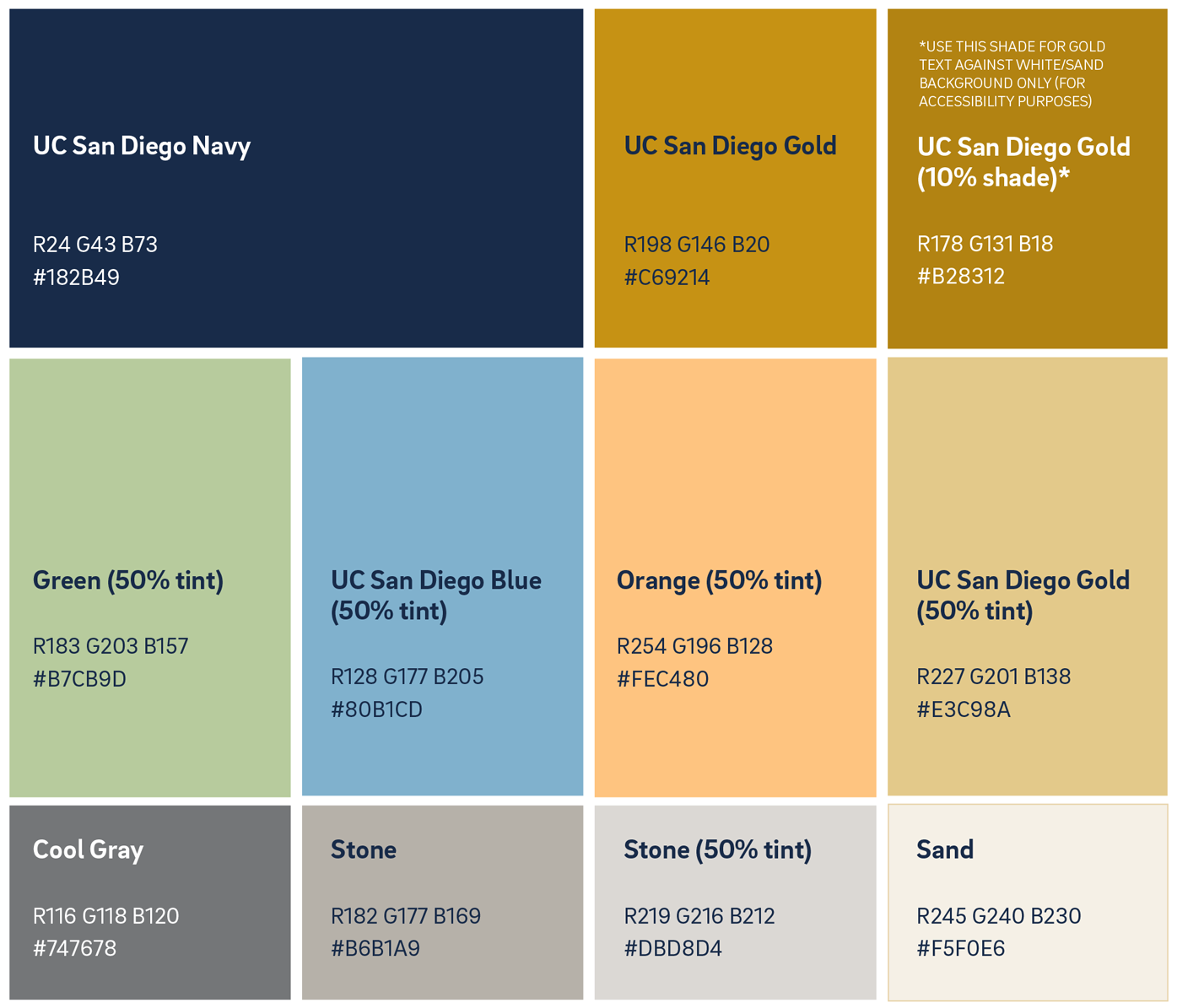 █ Navy blue: #182B49
█ Gold: #C69214
█ Gold* (10% Shade): #B28312 
█ Green (50% tint): #B7CB9D
█ Blue (50% tint): #80B1CD
█ Orange (50% tint): #FEC480
█ Gold (50% tint): #E3C98A
█ Cool Gray: #747678
█ Stone: #B6B1A9
█ Stone (50% tint): #DBD8D4
█ Sand: #F5F0E6
█ Blue: #00629B (for links only)
Please keep accessibility in mind when combining colors.
*Use █ Gold (10% Shade): #B28312 for gold text against white/sand backgrounds only; must be 14pt+ bold text or 18pt+ text for accessibility purposes.

Brix
The primary font for all GPS and university materials, Brix is a modern sans-serif that prides itself on legibility. Available in a wide range of weights, Brix can provide contrast and emphasis to establish clear hierarchy in text. Brix should be your go-to font for anything GPS and UC San Diego.
Brix (UC San Diego font) (.zip – internal only)
Alternate Fonts
If you do not have access to Brix Sans, Source Sans is our recommended alternate. Source Sans is a clean sans-serif with a wide range of weights similar to Brix. Brix and Source Sans should never be used at the same time on materials. Source Sans can be downloaded from Google Fonts or accessed through the Canva platform. If you cannot download Source Sans, Myriad Pro or Calibri (both available through commonly used software) may be used as a last resort; however, these are not recommended for use on external-facing materials.
Visit UC San Diego's typography page for more details.
Business cards can be ordered through PrintConnections. We ask that moving forward you select "Campus #2, 2-sided Business Card" that more closely aligns with the new GPS brand. And you can do a hard break to have our name correctly displayed on two lines as shown in this example: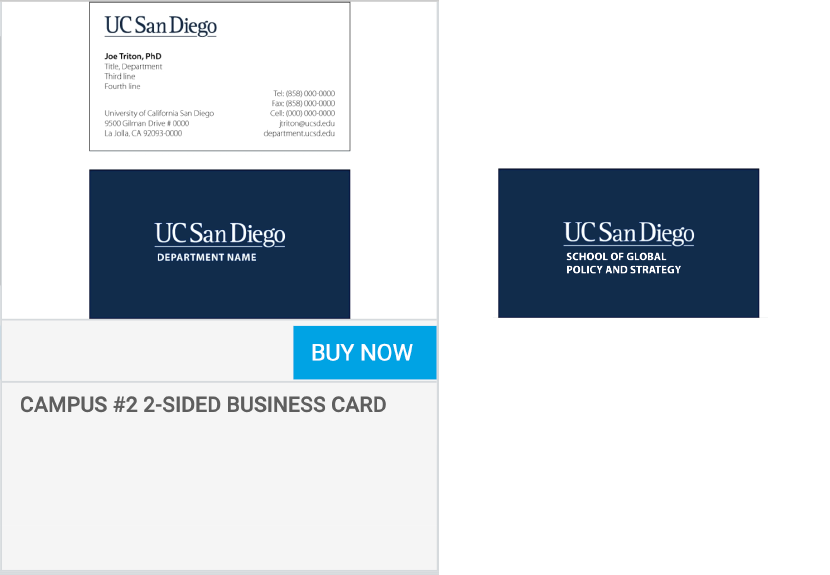 GPS Slideshow Template 1 (.pptx)