Employment Data
Our graduates have successful careers in public, private, non-profit and multilateral organizations. Here are some statistics and sampling from recent graduates.
Sector
Graduates found employment in the private, public and non-profit / multilateral sector while others pursued further education.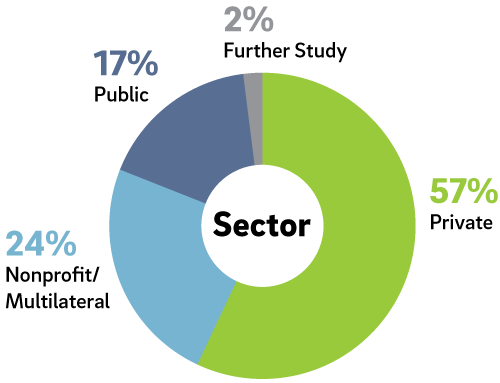 Region
Over 25 percent of our graduates find employment outside the United States while the rest are located in areas such as New York City, Washington, San Francisco and cities throughout Southern California.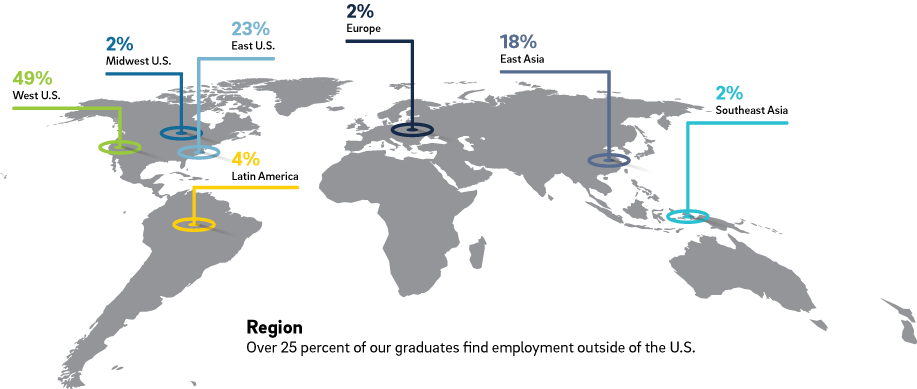 Industry
Our graduates are employed in a wide range of industries throughout the word. Following is a sampling of key industries.
Top 5 Cities
San Diego
San Francisco/
San Jose
Washington D.C.
Los Angeles
New York
Top International Cities
Top Employer
Average salaries for graduates employed in the U.S.
| Private Sector | Public Sector | Nonprofit/Multilateral Sector |
| --- | --- | --- |
| $69,000 | $60,000 | $53,000 |
Employers
Employment Type

Location (sample)

Organization (sample)

Nonprofit / Multilateral

24 percent

Chicago

Geneva

Kabul

Mexico City

New York City

Oxford

Rome

Singapore

Center for Clean Air Policy

International Monetary Fund

International Red Cross

Korea Development Institute

Peterson Institute

The United Nations

The World Bank

World Vision

Private

57 percent

Boston

Havana

Los Angeles

Phnom Pehn

San Jose

Santiago

Tokyo

Accenture

Bank of China

Citigroup

Deloitte

Qualcomm

Samsung

Sony Electronics

Public / Further Study

17 percent

Beijing

Hanoi

Honolulu

London

Ottawa

Portland

San Diego

Tegucigalpa

Washington

California Public Utilities Commission

Export-Import Bank

Ministry of Defense (Japan)

San Diego County

Space and Naval Warfare System Command

USAID

U.S. Air Force

U.S. Department of State

Zhejiang University