A Note from the Director
Greetings GPS Alumni,
As I write this message, we celebrate the arrival of our incoming students who have arrived at GPS and started their summer Prep program. Our second year students are wrapping up their summer internships and getting ready to return to campus. For many, it will mark the first time on campus after a year of online courses. 
GPS and UC San Diego are ready and eager to welcome everyone back and find safe and meaningful ways to build our community. Leveraging the campus' award-winning Return to Learn Program, we will continue to follow best practices related to COVID-19, and evolve and adapt to meet the challenges of this new normal. 
This fall, we will also continue to build our alumni community through virtual programming. Last year provided a formidable study on how to make remote programs fun and engaging. As part of UC San Diego's Homecoming week, I eagerly anticipate the all-GPS virtual reunion on Saturday, Oct. 23. It will be the first time for our new dean, Caroline Freund, to meet our tight-knit alumni community. Please join me in providing a warm welcome for Dean Freund! The program will also celebrate milestone reunions and outstanding alumni achievements. Registration is open to all GPS Alumni here.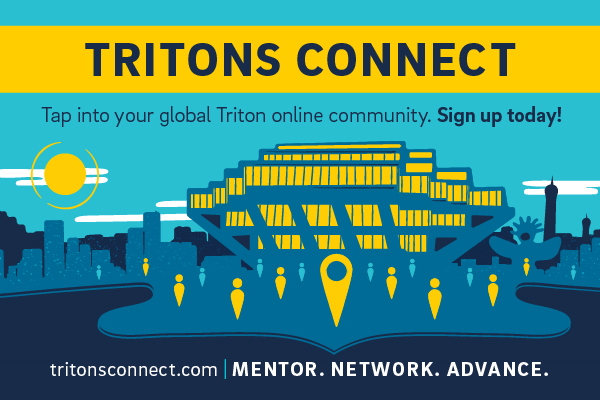 I've had the opportunity to speak with a number of you over the past several months. Like the wave of career transitions that is currently sweeping the nation, many of you expressed interest in career growth. Your network is key to success and access to opportunities. UC San Diego continues to encourage strong alumni connections through a number of virtual career-focused events called Triton Table Talks. Many GPS alumni have attended these valuable events and have taken advantage of networking through Tritons Connect. 
If you have not had a chance to explore this free resource, I encourage you to join today. You will instantly have access to thousands of alumni willing to help. Through Tritons Connect, you will be first to know about upcoming campus events and can share and obtain resources. There is also a business directory and job board. Seriously—check it out! 
The world continues to adjust and adapt to the fluctuations of the pandemic. While we cannot be sure what tomorrow or next week will bring, there is one thing I am 100% certain of—the strength, dedication and community of the GPS alumni community. As we look toward the future, I see bright possibilities. And I see them because of YOU! 
Wishing you good health,
Nurit Mandel
Director of Alumni Engagement
UC San Diego School of Global Policy and Strategy