The Plan
The UC San Diego School of Global Policy and Strategy (GPS) is a global society of faculty, staff, students, alumni, university leadership and community partners dedicated to the advancement of knowledge through research, education and public engagement.
With thoughtful input from our community, we present the following five-year strategic plan to support our aspirational goal to be a globally recognized school of innovative, policy-relevant scholarship that trains the next generation of leaders.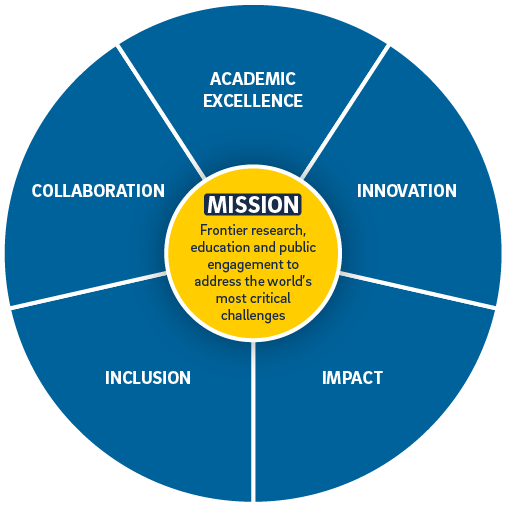 As a united community:
Our Mission
Frontier research, education and public engagement to address the world's most critical challenges
We Value
Academic Excellence, Innovation, Impact, Inclusion and Collaboration
Together We Will
Pursue five overarching aspirational goals that will set the trajectory for the school between 2022-2027. Our goals are to:
Affirm our position as a top International Affairs and Public Policy school

Be recognized for specific areas of excellence and unique competitive advantage

Attract best in class and more diverse student body

Expand active stakeholders' support of GPS

Ensure prominent position in UC San Diego system worthy of additional investment
Strategic Areas of Focus
In order to streamline our efforts, we have developed four broad priorities that will guide our actions and hold us accountable to our local and global community.
GPS is the place where people come to ask relevant questions and solve pressing problems related to economic, political, environmental and technological challenges. Through our world-renowned faculty, research, scholarship and education, we resolve to nourish our areas of excellence, invest and build areas of competitive advantage, and sustain excellence in a future oriented environment. Given our unique location and deep expertise, GPS is poised to:
Nourish excellence in our existing strengths in the Pacific, particularly in China, as well as topical areas such as climate, energy, democracy and governance

Invest and build excellence in globalization, Mexico and India, STEM and policy, and security

Sustain core areas of policy importance
We are resolved to foster lifelong learning. Our educational experience attracts individuals that are disrupters, looking for a non-traditional, collaborative experience that is future focused and leverages diverse perspectives to solve the world's most critical challenges. In order to support and better serve our community we will focus on:
Attracting, engaging, recruiting and enrolling best-in-class students

Expanding fellowship awards for access and opportunity

Leveraging technology and digital platforms to complement our in-person campus model

Redesigning our Career Services to enhance student and employer engagement and professional opportunities
Investing in experiential learning opportunities
The GPS story is unique and should be shared widely to ensure that we attract the best and brightest to our community.  Utilizing an entrepreneurial mindset and innovative spirit, we will expand the reach of GPS by: 
Engaging with a partner to articulate our compelling story

Streamlining our curriculum and tracks in alignment with key initiatives

Diversifying our portfolio of non-degree options

Collaborating with our research centers in promoting the school's brand and strategic plan

Building external relationships to increase prominence in the policy and business communities
Success will be achieved by investing in the people and spaces where academic excellence, innovation, impact, inclusion, and collaboration happens. This means we must build the resources and capacity of the school to support our plan in the following ways:
Create a sustainable business model for development that maximizes long-term fundraising capacity, while cultivating internal buy-in of development's strategic role

Create accountability for budgeting and efficient resource allocation

Implement a data management structure that supports business objectives

Provide continuous professional development to support career growth

Align the organizational model for the next stage of success

Optimize program performance
Keep an eye on this page for updates on our progress in meeting these aspirational goals.