Alumni Director's Message
Dear GPS Alumni,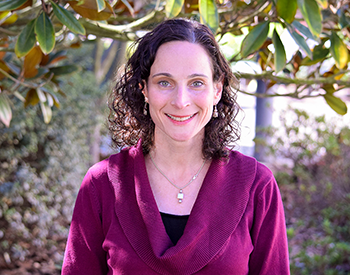 I hope summer is treating you well. With the 2019-20 academic year about to kick-off, I'm pleased to share some exciting updates with our global GPS family.
Our school continues to thrive. This past April, we celebrated 30 years since the first class of 13 students graduated. Many of you came out for the festivities. Some flew in from as far as Korea, Japan, Europe, and many joined us from across the U.S. If you missed the celebrations, check out our panels and TED-style talks here.
In June, we awarded 167 students degrees from seven different programs – our largest class yet! We also watched our current students embark on meaningful summer internships around the globe. To see what they've been up to this summer, check out our #TravelTuesday takeover.
Many of these internships would not have been possible without the support of our generous alumni and friends. A heartfelt thank you to all of you who contributed to our Summer Internship Fund, as well as those who helped make UC San Diego's first annual u.give day a smashing success. We raised over $15,000 to support our GPS students. It's not too late to make a difference – your gift of any size makes a difference for our students both today and tomorrow.
The end of June also brought a bittersweet goodbye. After more than a decade, David Robertson, our extraordinary director of Career Services celebrated his retirement from UC San Diego. David influenced the lives of thousands of you, as well as my own. While we wish him well, we will miss him deeply. The exciting news is that a familiar face has been appointed to his post. Please join me in giving a warm welcome to Stephanie Boomhower. For those of you who don't know her, please take a moment to and learn about some of the dearest objects that adorn her office.
I'm excited to share one more update. In an effort to provide increased networking opportunities for our alumni, GPS has integrated its regional clubs with the greater UC San Diego community. This means significant resources to help offset the costs of programs and marketing support for our alumni club leaders. GPS alumni are part of the central alumni leadership team of many regional clubs so our voice and interests will be represented.
UC San Diego will continue to invest in high-quality regional signature events in areas where we have the highest concentration of alumni: the Bay Area, Washington, D.C., New York and Los Angeles. In collaboration, we plan to host at least one GPS-only event on each coast annually, as well as our annual alumni reunion weekend here on campus. For a list of regional clubs and upcoming events, visit here.
For those who prefer online connections, GPS will continue its webinar series on a quarterly basis. Later this year, UC San Diego will also launch Tritons Connect, an online platform featuring an alumni directory, mentorship opportunities and industry groups. Stay tuned for a campus announcement this fall.
As always, I look forward to connecting with you in cities near and far this year. Sending warm wishes from La Jolla!
Sincerely,
Nurit Mandel
Director of Alumni Relations
UC San Diego School of Global Policy and Strategy