Your Alumni Board
Members of the board are elected by the alumni and meet throughout the year to establish, in collaboration with the dean and UC San Diego Alumni, the goals and objectives for the School. The board assists the staff in the implementation of programs for more than 3,000 alumni worldwide annually. 
Message from the President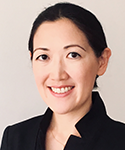 Dear GPS alumni,
Over a year ago as we were discussing changes in the board leadership, we wondered if and how it might work to have a board president who was not based in San Diego, and not even in California or in the U.S., but in Europe. We had questions about the distance, the time difference, how remote meetings might work ... little did we know that months later, our lives and how we do things would change so much that those concerns would no longer be significant. What many of us have come to realize is that what matters is interacting meaningfully with others; from where and the logistics are no longer as relevant. 
What has also transpired is people's desire and commitment to helping others in their communities, including our GPS community, as we saw reflected in this year's numerous alumni board nominations. We are thrilled to welcome eight new board members who strengthen and enrich our board not only in size, but also in breadth of representation on many different levels. We are excited to start this academic year with an Alumni Board that truly reflects GPS's global character, working together from Europe, Asia and the Americas – three continents and seven different time zones! 
We build on the work of many alumni leaders who have come before us. A special thanks to our outgoing president, Blake Tye, for her many years of service on the GPS Alumni Board and all the contributions she made to our school during that time. Blake, you will be missed! 
Our focus in the coming year will be more than ever on helping students have a full GPS experience and trying to make sure students and alumni feel supported throughout their academic and professional journeys. In order to support the school, students and our global alumni community, the Alumni Board continues to work towards five key objectives: 
Raise the global visibility of GPS

Increase quality and quantity of students attending GPS

Promote and increase the value of GPS to its alumni

Encourage volunteerism and financial giving from alumni to GPS

Grow value and impact of the alumni network for both students and alumni
If you wish to benefit from the network, as a first step, we invite you to join the GPS LinkedIn group and Tritons Connect. Both of these platforms help keep you connected, reinforcing and strengthening our global alumni network. Tritons Connect is open to all UC San Diego alumni and allows you to find and directly contact GPS alumni as well. It also has a vibrant list of upcoming events, a job board where you can share career opportunities in your company (or find your next opportunity), and a way to help students (or advance your own professional goals) through the mentor program. Lastly, feel free to share a shout-out to let us know how you are doing with a class note.
Participate as little or as much as you can, and above all, stay connected, stay safe and healthy, and be well! 
With best wishes,
Liliana Pao
MPIA, Class of 2002 
Brussels, Belgium
Helio Bertachini, MPIA '09, International Finance Corporation (Vienna)

Helio Bertachini works at the International Finance Corporation as a monitoring and evaluation (M&E) officer since 2016. In this role, he oversees the organization's investment and advisory services on financial markets, supporting the development of inclusive financial institutions and best practice financial regulation. Helio currently covers the Middle East, North Africa, Eastern Europe and Central Asia portfolios, and has been posted in Istanbul and Vienna. Prior, Helio worked for the Inter-American Development Bank as the M&E officer for impact investing projects in Latin America. Helio holds a bachelor degree in International Relations from Fundacao Armando Alvares Penteado and a MPIA from UC San Diego.

Dennis-Michael Broussard, MPIA '08, Silk Road Productions (San Diego)

Dennis-Michael Broussard is an entrepreneur, event producer and non-profit consultant. He has also initiated an international humanitarian project that focuses primarily on clean water access, and has also incorporated supplying educational equipment to various developing countries including Senegal, Nepal, Kenya, Tanzania, the Philippines and Uganda. Broussard is dedicated to volunteering for various community organizations including serving on the USS Midway's Diversity and Inclusion Committee. He is also a board member of the National Association of Asian American Professionals SoCal Chapter and the San Diego International Sister Cities Association. In addition, he serves as vice chair of the Asian Culture and Media Alliance Board of Directors. He earned his bachelor's degree in marketing from the University of New Orleans and an MBA from the University of San Diego.

Darcy Cook, MPIA '91, Clear Blue Sea (San Diego)

Cook is currently the director of development for Clear Blue Sea, a nonprofit dedicated to cleansing oceans of plastic debris by designing an offshore platform to remove plastic pollution. She is on the board of the Berry Good Food Foundation, overseeing their sustainable seafood activities in an effort to educate, connect and support local food producers and consumers. While at GPS, she 

co-founded the Journal of Environment and Development, co-established the school's initial recycling program and after graduation, was a founding alumni board member.

John Edwards, MAS-IA '15, U.S. Navy (San Diego)

Edwards is a U.S. Navy Full Time Support helicopter pilot with Helicopter Sea Combat Squadron THREE, based in Coronado, California. He provides range logistics and aerial firefighting to the Southern California Test and Training Range. During his time at GPS, Edwards founded the Strategic Studies Group and he continues to support its growth and outreach to defense and policy professionals in the San Diego area. He also holds a B.S. in history from the U.S. Naval Academy.

Gwendolyne Guzman Rose, MAS-IA '18, UC San Diego Extension International Programs

Gwendolyne Guzman Rose has worked in international higher education for the last 15 years specializing in international relations and business development. She is in charge of recruiting students and establishing collaborations with universities and companies from all over the world into a portfolio of visiting student programs. She has traveled to over 60 countries for work, and she has lived and studied abroad in Spain and Thailand. Guzman Rose currently sits on the board of directors for Study California, an association established by the U.S. Commercial Services to promote California higher education globally. She has been a member of various international education associations such as NAFSA: Association for International Educators, the European Association for International Education (EAIE), and Asia Pacific Association for International Education (APAIE). Guzman Rose received her bachelor's degree in public relations with a minor in Spanish from Cal Poly San Luis Obispo.

Ziwen Han, BA/MIA '15, China Merchants Bank (Shanghai)

Ziwen Han currently works as a product manager at China Merchants Bank (CMB) in Shanghai. Prior to this position, she worked as product manager at a top Chinese Insurotech company for three years. She also worked at China Telecom's Los Angeles office as a pricing analyst before she moved back to China in 2017. Han earned her bachelor's degree in economics and master's degree in international affairs from UC San Diego. Since graduation, she has gained experience in product launch management, business strategy, financial modeling and cross functional collaboration in the finance industry.

Jason Kim, MAS-IA '12, U.S. Embassy Seoul (Korea)

Kim is a Foreign Area Officer working as the Deputy Chief of the Joint-U.S. Military Affairs Group – Korea (JUSMAG-K), the Security Cooperation Office of the U.S. Embassy Country Team in the Republic of Korea (ROK). JUSMAG-K's mission is to support the ROK Government in the modernization and sustainability of its armed forces through strategic plans and engagements, co-production and scientific development, and security assistance operations focusing on foreign military sales. Prior to his assignment in Korea, Kim served as the Country Desk Officer for India, Japan, Korea and Vietnam at U.S. Army Pacific Headquarters in Honolulu, Hawaii. Kim also holds a B.S. in information systems from the U.S. Military Academy at West Point.

Jessica Megill, MPIA '10, U.S. Department of State (Washington, D.C.)

Megill has served as a political officer in the U.S. Foreign Service since 2004. Her overseas postings include China, Germany, Paraguay and East Africa. Domestically, she has served at the State Department headquarters in Washington, D.C., as well as at U.S. Pacific Command. She earned her bachelor's degree in linguistics from Cornell University.

Peter Moritzburke, MPIA '96, Consultant (San Francisco)

Moritzburke is an independent consultant based in the San Francisco area with over 20 years experience in renewable power project development, energy market entry strategy, energy policy and water resource management. He has held leadership positions with E.ON, SunPower, BESST and CERA, as well as board positions with multiple renewable energy trade associations. Moritzburke has supported GPS over the years through hosting student delegations, internships and working with alumni and faculty focused on carbon reduction strategies.

Greta Paa-Kerner, MPIA '96, Head of Business Engagement (London)

Greta Paa-Kerner is the head of business engagement at a British university. She runs two virtual business accelerator programs as well as two business incubation workspaces across multiple campuses. Paa-Kerner represents the university on several regional boards dedicated to business innovation, job skills and cultural heritage. In her spare time, she is an avid potter and sells her ceramics in a local gallery. She is a dedicated Triton and also holds a BA in political science from UC San Diego.

Liliana Pao, MPIA '02, European Commission (Brussels)

Pao is a 

senior staff engagement and HR management officer

at the European Commission in Brussels, where she designs and manages communication and talent management strategies. Prior to joining the European Commission in 2010, Pao was a senior consultant for strategic and corporate communications at FleishmanHillard and board member of the Belgian Public Relations Consultants Association. She earned her bachelor's degree in psychology and political science from UC San Diego.

Jamal Russell Black, MIA '16, ENGIE Impact (Remote)

Jamal Russell Black graduated from GPS in 2016 and is an experienced data scientist and business strategist. Immediately after graduating, he worked as a consultant in the education workforce development space. Through bespoke models, he helped develop, monitor and evaluate partners' programs. More recently, Russell Black has worked on decarbonization initiatives with ENGIE Impact, assisting cities, companies and countries in their transition away from conventional energy sources. Through his work he aimed to identify, implement and evaluate sustainable climate practices in both the private and public sectors.

Victor Tineo, MPIA '11, U.S. Department of the Treasury (Washington D.C.)

Victor Tineo is an international economist working in the East Asia office at the U.S. Department of the Treasury where he manages the Japan, Australia and New Zealand portfolio analyzing macroeconomic developments and shaping U.S. economic policy. Tineo has worked at the Treasury Department since 2015, and prior, worked as a financial economist at the U.S. Export-Import Bank (EIB) where he was responsible for country risk assessments of the sub-Saharan Africa markets portfolio. Tineo began his tenure at the EIB in 2011 as a U.S. Presidential Management Fellow. While at GPS, Tineo co-founded the Political Analysis and Strategic Simulations (PASS) group, and was the finance director of the Strategic Community Consulting group. Tineo received his bachelor's degree in economics from Vassar College.

Kevin Trepa, MPIA '05, Blount International (Portland)

Kevin Trepa is currently the chief information office 

and senior vice president for Blount International's global supply chain. Prior to this role, he led the Global Sales team for five years at Leupold & Stevens and was the vice president of the global supply chain at Sony Electronics. Trepa also served for 24 years in the United States Marine Corps in both the active and reserve components. He served as Chief of Current Operations for General Petraeus in Baghdad in 2007. He retired from the Marine Corps as a colonel in 2009.

King Tsao, MPIA '90, Bank of the Orient (San Francisco)

King Tsao came out of retirement in early 2020 and is currently working in the San Francisco-based Bank of the Orient as the chief risk officer. Before his retirement, he had worked in various financial institutions, including HSBC Group, GE Capital, Bank of America, The World Bank Group and Crédit Agricole Corporate and Investment Bank. King received his undergraduate from the Chinese University of Hong Kong and pursued his graduate studies from UCSC, UCLA and UC San Diego. He has over 30 years of professional experience in research, marketing, credit, risk management, compliance and legal in the finance industry.     
Past Presidents

We would like to acknowledge and thank the past presidents for their service.

Rebecca Eyre, MPIA '90 (1991 – 1993)
Mark Spalding, MPIA '92 (1993 – 1996)
Mike Stankiewicz, MPIA '94 (1996 – 1998)
Heather Shepard, MPIA '95 (1998 – 2000)
Jennifer Kellogg, MPIA '93 (2000 – 2002)
Melissa Dennis, MPIA '97 (2002 – 2004)
David Freitas, MPIA '97 (2004 – 2006)
Matt Hill, MPIA '04 (2006 – 2008)
Ben Bahney, MPIA '06 (2008 – 2009)
Anne Craib, MPIA '93 (2009 – 2010)
Brooke Partridge, MPIA '91 (2010 – 2013)
Jeff Rector, MPIA '97 (2013 – 2016)
Aaron Jacobson, MPIA '08 (2016 – 2018)
Blake Tye, MPIA '10 (2018 – 2020)