School of Global Policy and Strategy Changemakers 
A Global Shift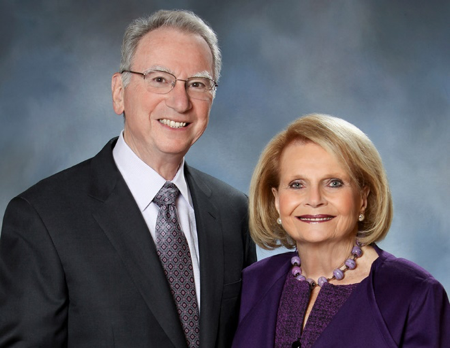 Since its founding in 1986, the School of Global Policy and Strategy has established itself as a leader in research and policy development in the Pacific region, which includes Asia and the Americas. In 2015, the School was renamed, reflecting the increasingly broadened scope of the school's research impact worldwide.
In support of the new and expanded trajectory, local philanthropists and community leaders Joan and Irwin Jacobs designated $4 million, through their Dunaway Foundation, to transform and grow the School's Center for Global Transformation. The center focuses on understanding and quantifying the consequences of global economic changes and technological growth.
"Joan and I are thrilled with the visionary direction of the School of Global Policy and Strategy and its mission to address the great challenges of our time," said Irwin Jacobs, who is founder and former chairman and CEO of Qualcomm, Inc. "The Center for Global Transformation will lead inquiry on global economic and technological transformation, two areas that are of particular interest to us. This gift is designed to help the center continue to grow as a powerful platform for understanding these fundamental shifts."
The Jacobs' gift also established two new endowed chairs to recruit and retain top faculty at the center—The Center for Global Transformation Endowed Chair in Technology Policy and The Center for Transformation Endowed Chair in Technology and Information. The support also made possible an endowment for faculty fellows, which supports two junior professors each year who are pursuing research key to the center's vision and priorities.
Discover more profiles in giving
Lisa and Jay Hanson '96
Investing in the Future: Alumni Couple Makes Historic Gift
May 1, 2015, by Jade Griffin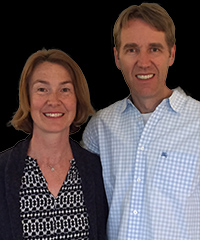 The University of California, San Diego's School of International Relations and Pacific Studies has received the largest alumni gift in the School's history thanks to class of 1996 alumni, Lisa and Jay Hanson.
With their recent pledge of $250,000, the couple has established the Hanson Sterner Fellowship Fund, which will benefit graduate students pursuing a Master of International Affairs (formerly the Master of Pacific International Affairs) at UC San Diego. The fellowship fund, which is endowed, will remain in perpetuity.
"We thank Lisa and Jay Hanson for their visionary gift," said Chancellor Pradeep K. Khosla. "Fellowships are critical for graduate students, who play a key role in UC San Diego's research enterprise. Upon graduation, these outstanding scholars will go on to become the innovators, teachers and leaders of tomorrow."
"We are so grateful to the Hansons for this historic gift to support our outstanding students," said Peter Cowhey, dean of the School of International Relations and Pacific Studies. "This donation is truly a groundbreaking action representing our alumni's dedication to ensuring the long-term success of both our students and the school as a whole."
The Hansons, who met each other while attending IR/PS as students, credit their education at UC San Diego with giving them the tools to succeed in business both in the United States and abroad.  Jay has a long history at eBay, Inc., and currently serves as vice president of European Expansion and Cross Border Trade at the Fortune 500 company.  Lisa worked in the finance industry, before focusing on raising the couple's young children. Currently, the Hansons live in Berlin, where Jay leads a large part of eBay's European operations.
The couple's choice to give to the School of International Relations and Pacific Studies, and specifically to graduate fellowships, is a personal one.  "Both of us benefited from financial support while we were there," said Lisa. "The School had a big impact on our lives, so we would like to help make that opportunity possible for future students."
Jay received the Nick Binkley Fellowship, established by the first chair of the School's International  Advisory Board, while Lisa benefited from various scholarships to support her studies. Fellowships play a key role in helping to ensure that graduate students can focus on their studies rather than worrying about working to support themselves through school. They can also be used to attract top students—like current IR/PS student Emily Foecke—who may be offered more competitive fellowship packages from other universities.  Fellowship support played a key role in Foecke's decision to attend UC San Diego.
"I would not have come to UC San Diego without my fellowship, as I was leaving a well-paid private sector job and received a 75 percent tuition scholarship to another institution," said Foecke, who received a more competitive fellowship package to attend IR/PS. Prior to attending UC San Diego, Foecke worked with development organizations in Cambodia, Kenya and Sierra Leone, as well as at two Fortune 500 companies.
"My fellowship allows me to focus on my studies and prepare for my career after graduation," she continued.  "Alleviating the stress and financial management and planning that crushing student loans can bring has been critical for me to have the time and mental energy to fully invest myself in my coursework and to take leadership roles outside of the classroom." 
At IR/PS, Foecke is focusing her studies on the implementation and evaluation of programs designed to address global issues ranging from poverty reduction to uality of life. Eventually, Foecke hopes to build a company that works with small to medium-sized nonprofits to help them invest their resources more responsibility and effectively to achieve the maximum possible impact around the globe.
"Financial assistance options for graduate education are paltry today, which presents a huge disincentive to graduates pursuing careers in social impact and not-for-profit ventures," said Foecke. "Yet, these are the same ventures where young people from forward-thinking, data-driven intuitions like IR/PS are desperately needed to find solutions to the world's biggest problems."
The Hansons, like many alumni, couldn't agree more. "We believe that the School will play a key role in creating the kinds of leaders that can help the world tackle the issues and opportunities we know are coming as a result of technological advancement, globalization, climate change and more," said Jay. "We look at our gift as, not only an investment in the School, but also an investment in the future."
Tom Cooney '00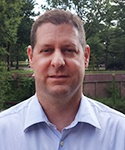 Early on a February morning in 2006, one of the holiest sites in Shi'a Islam — the al-Askari Shrine in the Iraqi city of Samarra — was bombed. As a result of the incident, violence spread throughout the whole of Iraq. With an estimated 1,000 killed and up to 168 mosques attacked in just the few days after the bombing, former CIA Middle East specialist Reuel Marc Gerecht told CNN at the time that "this is the most dangerous event that has occurred since the fall of Saddam Hussein."  
As the country was awash in turmoil, UC San Diego International Relations and Pacific Studies (IR/PS) alumnus Tom Cooney, MPIA '00, was serving as chief of the political section for the U.S. Department of State's Regional Embassy Office in Al-Hillah, Babil province, which covered five provinces south of Baghdad. As the country fell into widespread violence, Cooney led U.S. and Iraqi staff in reporting on the unrest, organizing situation reports for the U.S. Embassy every few hours for days until the fighting calmed.  
Cooney credits his graduate education at IR/PS with helping to prepare him for the challenges that come with a career in national and international security. "My IR/PS education helped shape me to be successful in the state department, allowing me to cover a wide range of political-military issues," he said.  
Working in Iraq from 2004 – 2006, Cooney served as a U.S. Department of State leader, first as the lead officer for the State Embedded Team (embedded with the military) and the foreign policy advisor to the senior coalition military commander in the province of Karbala. In 2005, he assumed his role as a political section chief in Al-Hillah. He also cochaired the provincial support team in Karbala, an interagency U.S. body composed of civilian and military organizations that coordinated with the Governor and other Iraqi officials on construction projects.  
Today, Cooney is based in Washington's Department of State offices, where he is a foreign affairs officer in the Bureau of Political-Military Affairs, serving as lead officer for strategic planning and policy for a range of civil-military issues: from cyber security to Western Hemisphere defense planning.  
"Throughout my career, I have been able to apply what I learned in San Diego," Cooney said. "Academically, IR/PS was very rewarding. The classes were practical and stimulating, including the toughest ones like Professor [Richard] Feinberg's foreign policy making course."  
Cooney also counts the school's strong alumni network as a key to his success. "I have remained good friends with many of those I met at UC San Diego," Cooney said. "The alumni network has proved to be very useful. It is a network you can rely on when you are looking for a job, or simply wanting to make connections or learn about an industry. It was very useful to me, and I know it has been useful to many of my classmates."  
In an effort to keep programs and initiatives at IR/PS growing and thriving, Cooney makes regular gifts to the IR/PS Excellence Fund, which is used by the dean to meet the graduate school's most urgent needs.  
"I got a lot out of my degree, and it was an excellent bargain," he said. "UC San Diego is a public university, and taxpayer dollars helped support my education, so I am trying to pay back some of that."  
With an appreciation for the quality of education offered at University of California campuses, Cooney recently returned to school to earn his executive MBA from UCLA's Anderson School of Management. Despite the fact that he is juggling school with his work in Washington, Cooney still consistently dedicates his time and resources to supporting IR/PS.  
"We got a top-notch degree," he said. "And I know any donations make a difference. I believe it is a smart investment to keep IR/PS strong."  
— By Jade Griffin, UC San Diego Communications
Mark Higgins '04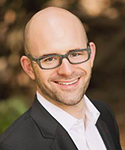 In the decade since graduating from UC San Diego's School of International Relations and Pacific Studies (IR/PS), Mark Higgins, MPIA '04, has established himself as a power broker in the clean energy sector — a leader whose work will have a significant impact on our future.  
"We are on the front lines of figuring out how to make an energy supply with lower carbon emissions a reality," said Higgins. "This is one of the big issues that we are dealing with as a global society in the 21st century."  
Currently, Higgins serves as Senior Director at Strategen Consulting, a California-based strategy consulting firm that helps organizations launch profitable, long-term ventures in clean energy markets. Prior to that, he worked at Pacific Gas and Electric, heading up regulatory policy work related to new sources of renewable energy, as well as management and planning to ensure that California has a reliable energy transmission grid.  
Higgins credits his industry success in large part to the education he received at IR/PS.  
"IR/PS is great for going into the energy sector because of its focus on how government and public policy impacts business," said Higgins. "Energy is one of the most highly regulated industries—it is at the crossroads of business and policy."  
Higgins wasn't always in the energy sector, however. When he first graduated from IR/PS, he helped launch a $70 million venture capital fund focused on commercializing international technologies in the U.S. market. While much of the investments were in agricultural tech and biotech, the fund he worked with began dabbling in investments in renewable energy, which gave him a taste for the industry sector. When Higgins moved to the San Francisco Bay Area, he made the transition from venture capital and finance to development and policy work related to energy.  
Valuing his relationship with his alma mater, Higgins has stayed involved with IR/PS since his graduation.  
"When talking with others, I describe an education from IR/PS as an MBA on steroids," said Higgins. "Students get a lot of the components of a management degree, but in addition, they learn about international government and regulatory processes, which is helpful in many industries."  
Higgins supports the IR/PS Summer Internship Fund, which provides students with the opportunity to participate in intensive summer internships around the globe. An integral part of the IR/PS experience, students gain hands-on experience conducting research, shaping public policy and engaging in public service.  
To this day, he reflects fondly on his experience abroad as part of the IR/PS Summer Internship Program. He worked in the United States Foreign Commercial Service in Auckland, New Zealand, and as a systems analyst at Deloitte Consulting. He recalls participating in various real-world projects and market research, which gave him insight into how governments can help small and medium-sized businesses grow and expand internationally.  
"The program gave a lot to me," said Higgins. "And I know there were benefactors who helped support me in the summer internship program and made that experience possible for me."  
Today, Higgins seeks to pay it forward. "At IR/PS, every alumni donation makes a difference," said Higgins. "It is easy to see how our support tangibly helps real people. By giving to the Summer Internship Fund, I know that my gift is going to a student who will gain the same valuable experience I had when I was there."  
– By Jade Griffin, UC San Diego Communications
Mark Spalding '92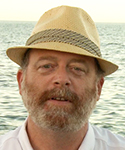 When he was an IR/PS student, Mark Spalding, MPIA '92, learned the value of gaining practical experience through internships. It was an experience that allowed him to contribute to an organization while also getting a taste of the real world. Now, he is able to offer that same experience to other IR/PS students.
"Summer internships are the most important exposure to practical application of the IR/PS experience," he said. "In addition to hosting paid interns at The Ocean Foundation, I support the IR/PS internship program. I believe that everyone should have these kinds of experience, but should not have to go without eating to do so."
Robinson Summer Opportunities Endowment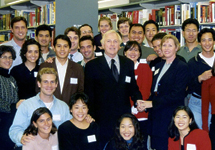 Lawrence Robinson was one of the early supporters of IR/PS, which has become one of the top graduate schools in the nation for international relations. Among many other gifts, Robinson established the Robinson Summer Opportunities Endowment.  
Lawrence Robinson was a successful lawyer, businessman and judge before moving to San Diego many years ago. He became active in the San Diego community and was one of the early supporters of UC San Diego's School of International Relations and Pacific Studies (IR/PS), which was founded in 1986 and is among the top graduate schools in the nation for international relations.  
Among many other gifts, Robinson established the Robinson Summer Opportunities Endowment, which supports IR/PS students who complete intensive internships during their first and second years. These internships are an integral part of the IR/PS experience. They offer students the chance to put their education in action and gain hands-on experience conducting research, shaping public policy, managing resources and engaging in public service.  
"At last count, over 500 students have been a part of that program," said Robinson. "And I still get letters from the students every year, telling me about how they've spent their summers and what their plans are."  
Galen Berkowitz, MPIA'13, is one of many students who have benefitted from the endowment. Last summer, he completed an internship with the International Trade Administration at the U.S. Department of Commerce in Washington. As an international trade specialist intern, he helped companies increase their market access in China and worked with industry groups and government agencies to determine the best way to change Chinese policy to eliminate market barriers.  
"I learned a great deal at my internship and was given many interesting assignments," said Berkowitz. "I understand much better how the government actually works."