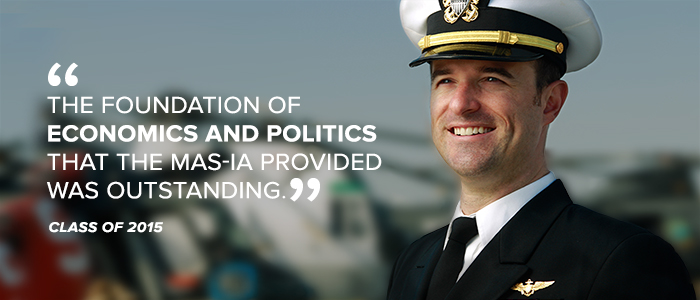 Master of Advanced Studies in International Affairs
The Master of Advanced Studies in International Affairs (MAS-IA) is our leading executive international affairs degree. Incoming students are seasoned professionals with five or more years of work experience and our curriculum challenges them by digging deeply into the study of international relations, international political economy, public policy, environmental sustainability and Asia-Pacific security.
We offer the flexibility of both full- and part-time enrollment, allowing students the option of maintaining employment while pursuing their degree. GPS students thrive in the diverse, cosmopolitan atmosphere of one of America's most innovative cities, while enjoying proximity to the broader Pacific region that plays such a crucial role in today's global economy and geopolitics.
On campus, students work with professors who are leading experts in their fields. Selecting one of five specialized career tracks, as well as a regional specialization, students are able to connect academic work with the leadership roles they'll assume after graduation.
Whether you're looking to advance your global career or launch a new one, the MAS-IA provides all the tools you'll need to excel.
Program Overview
Students enrolled full time complete the degree in a nine-month academic year (holders of F or J visas must study full time). A part-time enrollment option (2 academic years) is also available to professionals with flexible work schedules.
In addition to core classes, students must also satisfy the requirements of a career track and complete electives for a country/regional specialization: China, Korea, Japan, Latin America or Southeast Asia.
The Master of Advanced Studies in International Affairs core curriculum is designed to integrate the diverse subject areas of international management, politics, economics and comparative public policy.
Core Courses
Two specially designed courses, offered during the fall quarter, are devoted to the politics and economics of the Pacific region and provide a solid foundation in the study of international affairs.
Politics of International and National Policy Making: This course provides an introduction to the international political economy of the Pacific Rim. The course covers important international developments, such as regionalism, as well as domestic decision making processes.
Economies of the Pacific Rim: 

This course studies major economies of the Pacific region by combining standard tools in economics with institutional background on each economy. Special attention is given to the challenges that economic globalization poses on the economic relations among those economies.

or Managerial Economics (for students selecting the Environmental Policy and Sustainability career track): 

Survey of basic tools of economics. Included will be such topics as real trade theory, international movements of capital, the effects of trade and capital flows on domestic economies, and policies toward trade and foreign investment. 
Capstone Course
The capstone course, offered in the spring quarter, provides an integrative analytical exercise culminating in an written report and oral presentation.
Workshop on Policy Issues in the Pacific Rim: Students collaborate on long-term projects analyzing important political, economic, and business issues in the Pacific regions using the tools acquired through other courses at GPS. 
Students choose one of five career tracks prior to beginning study. Career tracks are designed for students to focus their studies in a functional area of their choice.
International Relations
International Political Economy
International Public Policy
Environmental Policy and Sustainability
Security of the Asia-Pacific
Course schedules are published on a quarterly basis and are subject to change without notice. Some elective courses that can be applied to meet career track requirements may not be offered in a given academic quarter or academic year.
Students who have been admitted as candidates for the Master of Advanced Studies in International Affairs program are advised to review the list of courses to determine whether their academic and professional backgrounds have sufficiently prepared them to enroll in a particular course.
Please contact GLI for any questions.
The country/regional specializations were established in recognition of the growing importance of the Pacific region to the U.S. and the world. Students are required to complete two courses.
Courses taken for a country/regional specialization may not be double counted as career track electives for the MAS-IA degree.
Students are required to take at least two courses that have a regional specialization.  The two courses may either focus on one country or on two countries from the below list:
China
Japan
Korea
Latin America
Southeast Asia
The MAS-IA curriculum consists of a total of 12 courses (48 degree units). The program is designed as a one-year degree, which requires students to enroll in four courses each quarter. In an effort to accommodate working professionals, the degree may be completed in two years by attending part time.
Please Note: only U.S. citizens and permanent residents are eligible for the part-time program; international students must enroll in full-time study to maintain non-immigrant (F-1 or J-1) status.
Full-Time (9 Months)
Year
Quarter
Courses
Units
Year 1
Fall
Politics of International and National Policy Making
Economies of the Pacific Rim
Elective
Elective
16
Winter
Elective
Elective
Elective
Elective
16
Spring
Workshop on Policy Issues in the Pacific Rim
Elective
Elective
Elective
16
Total Degree Units:
48
Part-Time (18 Months)
Year
Quarter
Courses
Units
Year 1
Fall
Politics of International and National Policy Making
Economies of the Pacific Rim
8
Winter
Elective
Elective
8
Spring
Elective
Elective
8
Year 2
Fall
Elective
Elective
8
Winter
Elective
Elective
8
Spring
Workshop on Policy Issues in the Pacific Rim
Elective
8
Total Degree Units:
48
Quick Links
Sign up for our Admissions Newsletter
Student Profile

In a Q&A complementing our Storify tour of a day in the life of Brian Foster '16 paints a picture of what attending GPS looks like for him. Read here