Your Alumni Board
Members of the board are elected by the alumni and meet throughout the year to establish, in collaboration with the dean and UC San Diego Alumni, the goals and objectives for the School. The board assists the staff in the implementation of programs for more than 2,800 alumni worldwide annually. 
Message from the President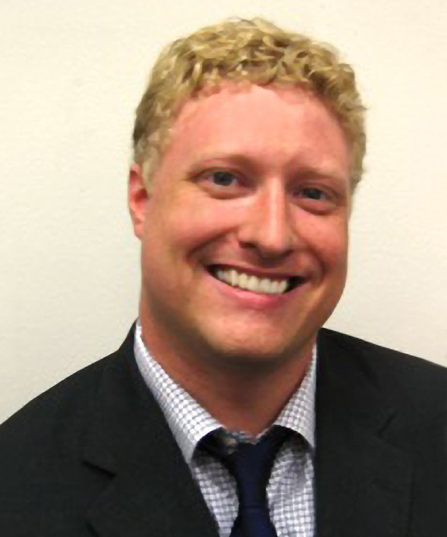 Dear fellow alumni,
When one thinks of "new beginnings" during the calendar year, it is usually thoughts of New Year's Day – and the pressure of resolutions – or the first days of Spring as we all wake from our winter slumbers. For those of us within the GPS community, June and July also represent the start of something new. We welcome a brand-new class to the ranks of alumni – congratulations to the Class of 2017!
Additionally, the GPS Alumni Board had its first official meeting of the year in July to select new board members to join us in our mission to serve GPS and our fellow alumni. This year, we welcome nine new board members: Parul Agarwal, MPIA '15, Amandine Berro, MIA '16, Coralie Bordes, MPIA '11, Jason Kim, MAS-IA '12, Peter Moritzburke, MPIA '96, Liliana Pao, MPIA '02, Jamal Russell Black, MIA '16, Hrishikesh Somani, MIA '16 and Karla Yee Amezaga, MIA '16. We are all very excited to have these dedicated colleagues join us in the coming year.
I also want to take this opportunity to thank Andrew Curry, MPIA '06, Molly Gavin, MPIA '03 and Kahori Matsui, MPIA '99. All three decided to step down from the board this year, and we appreciate their time, effort and service to GPS. 
Finally, we are happy to announce that Blake Tye, MPIA '10 was nominated and accepted the position of the incoming president! Blake and I will serve together as I finish out my final year as president, working together with Nurit Mandel on all aspects of planning and execution of the board's strategic goals.
Speaking of goals, I would like to reiterate to the community what we strive for:
raise the visibility of the School, globally;
increase the quality and quantity of students to the School;
promote and increase the value of GPS to its alumni;
expand giving from alumni to the School; and
leverage the use of technology/social media to reach our nearly 3,000 alumni.
The board will also be utilizing some new information regarding our focus and programs based on responses to a survey sent last year. Alumni indicated the need for more remote/virtual connections to the School, and GPS has taken strong steps in this direction by utilizing Facebook Live and other platforms to broadcast academic talks and events. There is also a strong desire for mid-career level networking, which could include professional networking opportunities, career development, mentoring and educational enrichment.
Another new initiative will be to strengthen the board's interactions with the GPS regional clubs. These clubs are an essential and vibrant part of our alumni community and experience. We hope that by meeting regularly, discussing various initiatives and working together to advance the mission of GPS, we can become a more cohesive, dynamic and effective community.
It has been a pleasure to serve all of you this past year, and I am very excited about the coming year. We have a great board that is eager to make a difference, new ideas to help advance our goals and a lot of momentum as we get to work.
As always, there are some easy ways to stay in touch with GPS. Please continue to read the GPS alumni newsletter, reach out to our LinkedIn group, get involved with regional clubs, update your information with Director of Alumni Relations Nurit Mandel, and submit a class note. Also, should you have an idea or wish to get involved in some other way, feel free to email me.
Sincerely,
Aaron Jacobson, MPIA '08
Parul Agarwal, MPIA '15, HWC (Washington, D.C.)

Agarwal is a data analyst and information designer at HWC, a consulting company that specializes in public health and emergency management. Prior to joining HWC, she worked at the World Bank's Development Economics Data Group, collecting and analyzing international financial data. Agarwal holds a bachelor's degree from Harvard University.

Amandine Berro, MIA '16, PlayStation (San Diego)

Berro is currently a data analyst for PlayStation, where she works closely with the IT team to predict what the gaming studios will need and find new ways to reduce costs. While at GPS, she was involved with student-led consulting clubs both at the School and with the wider UC San Diego community. Berro also founded the GPS Francophone Club, a student-run organization aimed at increasing the understanding of politics, economics and culture in any and all French-speaking countries or regions.

Coralie Bordes, MPIA '11, maxiaNET (San Diego)

Bordes is the cannabis and hemp business manager at maxiaNET, an export management firm based in San Diego, Calif. She is also the CEO and founder of Coco Ana Chocolate. From 2011-17, 

Bordes

 was at Saint-Gobain, a French manufacturing corporation and world leader in habitat and construction markets. During that time, she held various marketing and operations roles as a market analyst, production control manager and global product manager. Prior to GPS, Bordes earned her B.A. and M.A. in international business from La Sorbonne University in France.

Michael Buesa, BA/MIA '13, Credo Mobile (San Francisco)

Buesa currently is a pricing analyst at Credo Mobile in San Francisco, where he helps shape both customer-facing and wholesale pricing. In addition to providing wireless mobile services, Credo also empowers its customers to advocate for social justice policies and progressive change. Previously, Buesa served as a project analyst at Opinion Dynamics Corp. and as a capital markets analyst at Waypoint Homes. While at GPS, Buesa worked for The Brookings Institution, where he collaborated with fellow alumni board member Ross Bixler on the Institution's Metropolitan Export Initiative, creating an exhaustive evaluation and analysis of San Diego's engagement with international markets.

Santiago Davila, MPIA '07, U.S. Department of State (Washington, D.C.)

Davila works in the public affairs section at the U.S. Embassy in Lima, Peru, where he leads alumni and education programs. He and his wife Cynthia Davila, MPIA '07, are both members of the foreign service. An experienced international business manager, technology and education enthusiast, he previously spent eight years at Hewlett Packard in the U.S. and China working in various international business roles. He also holds a B.S. in applied economics from Virginia Tech.

John Edwards, MAS-IA '15, U.S. Navy (San Diego)

Edwards is a department head and flight instructor at Helicopter Maritime Strike Squadron FOUR ONE (HSM-41), based in Coronado, Calif. He instructs students in the MH-60R Seahawk and is responsible for safety, standardization and mentorship of more than 50 instructor pilots and 35 instructor aircrew. At GPS, Edwards founded the Strategic Studies Group in 2015 and continues to support its growth and outreach to defense and policy professionals in the San Diego Area. He also holds a B.S. in history from the U.S. Naval Academy. Beginning in February 2017, Edwards will serve as a department head at Helicopter Maritime Strike Squadron THREE FIVE (HSM-35), acting as an Officer-in- Charge of a MH-60R helicopter detachment to Seventh Fleet (Asia).

Diana Fakhrai, MPIA '04, Law Offices of Diana G. Fakhrai (San Diego)

Fakhrai is an experienced immigration attorney. She is a graduate of UC San Diego with a MPIA from GPS in 2004 and a law degree from the University of Wisconsin Law School. Fakhrai currently serves as the liaison for the American Immigration Lawyers Association. She is also a member of the National American Immigration Lawyers Association Pro Bono Committee, sits on the Board of Governors of the Los Angeles Athletic Club and has served as the liaison the American Immigration Lawyers Association.

Chihiro Fujimoto, MAS-IA '11, World Bank, (Washington, D.C.)

Fujimoto is a financial officer in the capital markets division of the World Bank in Washington, D.C., where her responsibilities include managing World Bank's liquidity and performing trading activities for World Bank's funding program. Prior to joining World Bank in 2013, Fujimoto worked at Bank of Japan, executing interventions in the foreign currency markets and providing economic analysis of Asian, British and U.S. markets. She also holds a bachelor of economics from Waseda University.

Mark Higgins, MPIA '04, Strategen Consulting (San Francisco)

Higgins is vice president and chief operating officer for Strategen Consulting in Berkeley, Calif., which offers strategy consulting for ventures in clean energy markets. Higgins's career in the energy industry has focused on renewables project development and utility regulatory strategy. Prior to Strategen, which he joined in 2014, Higgins held positions at Pacific Gas and Electric Co., SunEdison and Hu Honua Bioenergy, among other companies. He also holds a B.A. in government from the University of Notre Dame.

Aaron Jacobson, MPIA '08, United Technologies Aerospace Systems (San Diego)

Jacobson is a materials manager with United Technologies Aerospace Systems in Chula Vista, Calif. where he advises and trains the organization in lean logistics and material flow. Additionally, he is responsible for the strategic material planning for the organization's Airbus portfolio. Prior to joining United Technologies in 2010, he worked as a marketing and sales analyst for eBioscience. Jacobson holds a B.A. in political science from the University of Wisconsin—Madison.

Jason Kim, MAS-IA '12, U.S. Embassy Seoul (Korea)

Kim is a Foreign Area Officer working as the Deputy Chief of the Joint-U.S. Military Affairs Group – Korea (JUSMAG-K), the Security Cooperation Office of the U.S. Embassy Country Team in the Republic of Korea (ROK). JUSMAG-K's mission is to support the ROK Government in the modernization and sustainability of its armed forces through strategic plans and engagements, co-production and scientific development, and security assistance operations focusing on foreign military sales. Prior to his assignment in Korea, Kim served as the Country Desk Officer for India, Japan, Korea and Vietnam at U.S. Army Pacific Headquarters in Honolulu, Hawaii. Kim also holds a B.S. in information systems from the U.S. Military Academy at West Point.

Jessica Megill, MPIA '10, U.S. Department of State (Washington, D.C.)

Megill has served as a political officer in the U.S. Foreign Service since 2004. Her overseas postings include China, Germany, Paraguay and East Africa. Domestically, she has served at the State Department headquarters in Washington, D.C., as well as at U.S. Pacific Command. She earned her bachelor's degree in linguistics from Cornell University.

Peter Moritzburke, MPIA '96, Consultant (San Francisco)

Moritzburke is an independent consultant based in the San Francisco area with over 20 years experience in renewable power project development, energy market entry strategy, energy policy and water resource management. He has held leadership positions with E.ON, SunPower, BESST and CERA, as well as board positions with multiple renewable energy trade associations. Moritzburke has supported GPS over the years through hosting student delegations, internships and working with alumni and faculty focused on carbon reduction strategies.

Liliana Pao, MPIA '02, European Commission (Brussels)

Pao is a human resources management officer at the European Commission in Brussels, where she designs and manages communication and talent management strategies. Prior to joining the European Commission in 2010, Pao was a senior consultant for strategic and corporate communications at FleishmanHillard and board member of the Belgian Public Relations Consultants Association. She earned her bachelor's degree in psychology and political science from UC San Diego.

Jamal Russell Black, MIA '16, Hanover Research (Arlington)

Russell Black graduated from GPS in 2016 and is an experienced data scientist and marketing specialist, and possesses a keen interest in all topics related to economic, business and social development. Directly after obtaining his MIA he began work as a quantitative analyst. Through his work, he aims to identify, implement and evaluate sustainable practices in both the private and public sector. In addition to his work as a researcher, Russell Black has worked extensively in both journalism and marketing. Driven by his passion to promote human rights around the world, he was a contributor to, and an editor of, an online newspaper's human rights section. He is a firm believer in the power of data analytics to positively influence change in the world.

Hrishikesh Somani, MIA '16, Nielsen (Ho Chi Minh City)

Somani is a senior analyst with Nielsen in Ho Chi Minh City, Vietnam. He is responsible for leading the market research for Personal Care segment of Unilever's total business in Vietnam. He uses Nielsen's proprietary data to analyze trends in the market and help Unilever create strategies for their brands to gain/maintain leadership positions in the market. He holds a bachelor's degree in journalism and mass communication and used to work in a wildlife documentary film crew before coming to UC San Diego.

Elias Terman, MPIA '94, Distil Networks (San Francisco)

Terman is vice president of marketing at Distil Networks in San Francisco, where he is responsible for global marketing and communications strategy. He started his career as an entrepreneur in Mexico City and now enjoys helping grow venture backed startups in Silicon Valley. He built out the marketing and business development organizations at OneLogin, and helped establish SnapLogic as a leading application integration company. Terman also holds a B.A. in economics from San Diego State University

Blake Tye, MPIA '10, Intel Corp. (San Diego)

Tye is a senior manager for the next generation and standards group at Intel Corp. In this capacity, she oversees various initiatives focused on technology advocacy and spectrum strategy. Tye also supports aspects of Intel's engagement with industry coalitions such as the Wireless Broadband Alliance, Global mobile Suppliers Association and MulteFire Alliance. Prior to Intel, Tye worked at Qualcomm Inc., where she directed technology demonstration programs in emerging markets, with focus areas in China and mobile health. She also holds degrees in international relations and Spanish literature from University of North Carolina at Chapel Hill.

Karla Yee Amezaga, MIA '16, World Bank (Washington, D.C.)

Yee Amezaga works in the Poverty and Equity Global Practice in the World Bank's headquarters. Her responsibilities include harmonization and analysis of household survey data for the measurement of poverty and other welfare indicators in the East Asia and Pacific region. Before joining the Bank, she worked in strategic communications, did development work in rural Mexico, and collaborated with the OECD, Ashoka Changemakers and Mexico's Ministry of Foreign Affairs. She holds bachelor's degrees in political science and international relations from the Instituto Tecnológico Autónomo de México in Mexico City.
Past Presidents

We would like to acknowledge and thank the past presidents for their service.

Aaron Jacobson, MPIA '08 (2016 – 2018)
Rebecca Eyre, MPIA '90 (1991 – 1993)
Mark Spalding, MPIA '92 (1993 – 1996)
Mike Stankiewicz, MPIA '94 (1996 – 1998)
Heather Shepard, MPIA '95 (1998 – 2000)
Jennifer Kellogg, MPIA '93 (2000 – 2002)
Melissa Dennis, MPIA '97 (2002 – 2004)
David Freitas, MPIA '97 (2004 – 2006)
Matt Hill, MPIA '04 (2006 – 2008)
Ben Bahney, MPIA '06 (2008 – 2009)
Anne Craib, MPIA '93 (2009 – 2010)
Brooke Partridge, MPIA '91 (2010 – 2013)
Jeff Rector, MPIA '97 (2013 – 2016)