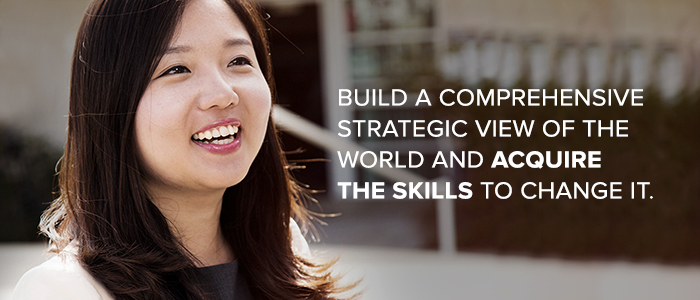 Master of International Affairs
The Master of International Affairs (MIA) is a two-year, full-time degree program, focusing on the Americas and Asia.
GPS students develop invaluable global perspectives through engaging with a diverse range of people and ideologies, sculpting skills and sensibilities that will shape future political and economic policies and strategies.
Our faculty consists of leaders in public policy, global politics, international security, business and economics and environmental sustainability.
Our high-performing students—attracted to the School from around the globe—explore a variety of career paths at GPS through dynamic case studies assigned by industry-leading scholars, quantitative analyses of real-world challenges and professional internships.
Master of International Affairs graduates pursue careers in global business, diplomacy, non-profits, regional development and more. Our alumni network spans more than 80 countries, maintaining GPS connections all over the world.
From the classroom to internships to the workplace and beyond, we understand your goals in international policy and practice. Let GPS be the catalyst that takes you there.
Program Overview
In addition to core classes,
Master of International Affairs 
students in the program select one career track and one country/regional specialization: China, Korea, Japan, Latin America or Southeast Asia. Language acquisition is a key element within the curriculum.
The core curriculum is designed to integrate the diverse subject areas of international business, politics, economics and development.
 
Core Courses
All Master of International Affairs candidates must complete the following courses with a C- or better. The courses listed below are completed in the first year of study.
IRCO 400 – Policy Making Processes: This course is designed to teach students how to "read" a country's political and economic system. The course will examine how the evolution of different institutional frameworks in the countries of the Pacific region influences the way in which political choices are made.
IRCO 401 – Managerial Economics: Survey of basic tools of economics. Included will be such topics as real trade theory, international movements of capital, the effects of trade and capital flows on domestic economies, and policies toward trade and foreign investment. 
IRCO 403 – International Economics: The theory and mechanics of international economics. Included will be such topics as real trade theory, international movements of capital, the effects of trade and capital flows on domestic economies, and policies toward trade and foreign investment. 
IRCO 410 – International Politics and Security: Development of analytic tools for understanding international relations with applications to contemporary problems such as the environment, nuclear proliferation, human rights, humanitarian interventions and the roots of conflict and cooperation among countries.
IRCO 412 – Globalization, the World System and the Pacific: This course examines globalization and other economic and political factors that shape the international relations of the Pacific Rim. Specific topics include financial market integration, state cooperation and intervention, and case studies of individual countries.
IRCO 415 – Finance and Accounting for Policy Makers: This course covers concepts and applications of accounting and finance necessary for policymakers in for-profit, nonprofit, and public sectors. The course content consists of three parts: (1) basic financial accounting and financial analysis, (2) the effect of time value of money on investment decisions and (3) the effects of risk on financial decisions. No credit will be allowed for IRCO 415 if a student has taken IRCO 420 and IRCO 421.
IRCO 453 – Quantitative Methods I: This course is designed to provide proficiency in quantitative methods that are used for optimization and decision-making. The use of spreadsheets is applied to data analysis and problem-solving. Statistical theory and regression analysis are introduced.
IRCO 454 – Quantitative Methods II: This course covers elements from statistics that are central to business decision-making under uncertainty. In particular, regression analysis and estimation will be applied to problems of forecasting and optimization.
Capstone Courses
At least one of the following courses must be taken after satisfactory completion of all first year core courses.
IRCO 463 – Strategy and Negotiations: This class introduces the fundamentals of corporate strategy, based on case studies requiring corporate analysis; and the principles of negotiation, based on exercises and class learning. Both sections of this class are highly applied and require intensive out-of-class preparation and teamwork that help students acquire skills in analytical thinking, strategic action planning and hands-on negotiations. Prerequisites: IRCO 400, 401, 403, 410, 412, 420, 421, 453 and 454.
IRCO 467 – Policy Responses to Global Problems: This capstone is designed to test the analytic skills acquired in the GPS program, using them to explain complex real-world problems: security, persistent recurring conflict, persistent inequality and intergenerational debt, women's rights, environmental change, energy/resource systems, and financial contagion. Emphasis will be placed on determining the nature and dimension of the problem, exploring a range of solutions and assessing the capacity of public institutions. Non-GPS students may enroll with consent of instructor. Students may not receive credit for both IRCO 467 and IRGN 490 Special Topics course with same course title.
IRCO 468 – Evaluating Technological Problems: This capstone is intended as a culminating intellectual experience for students, particularly those in economics-oriented tracks. Students will learn to analyze "what works," integrating a technical understanding of innovation with rigorous statistical analysis. The first half of the course focuses on building a set of science/engineering tools, and the second half focuses on building statistical tools of analysis. Letter grades only. Prerequisites: IRGN 446 or consent of instructors.
Career tracks are designed for Master of International Affairs students to acquire expertise in a functional area of their choice and consist of five courses from a prescribed list: two required and three electives. Students will choose one of the following career tracks:
The country/regional specializations were established in recognition of the growing importance of the Pacific region to the U.S. and the world, and have two components:
Two designated courses: one on the economy and a second on the political system of the region
A language requirement
Dual specialization requires the student to complete the coursework and language requirement for both regions.  
Courses taken for a country/regional specialization may not be double counted.  
Students will choose one of the following
country/regional specializations
(PDF):
China
Japan
Korea
Latin America
Southeast Asia
The language must match the student's country/regional specialization. 
Country/Regional Specialization
China = Chinese (Mandarin)
Japan = Japanese
Korea = Korean
Latin America = Spanish, Brazilian Portuguese
Southeast Asia = Bahasa Indonesia, Chinese (Mandarin), Thai, Tagalog, Vietnamese
The foreign language requirement may be satisfied in one of four ways:
Proof of having attended either high school or university in the regional language
Native proficiency
Completing six quarters (four semesters) of college-level language instruction from an institution comparable to UC San Diego with a grade of "B" or better in the final course.
Passing a special GPS-administered language exam, which is the equivalent of the final exam administered in the sixth-quarter course in the selected language.