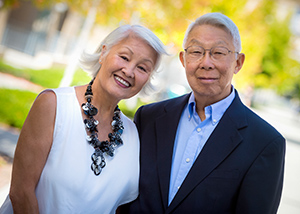 Exactly 30 years ago, Peter Gourevitch took a gamble on leading a new institution at UC San Diego, one anchored in teaching international relations with a focus on the Americas and Asia. Central to getting the UC San Diego School of Global Policy and Strategy (GPS) on the map were the supporters and believers who had faith in Gourevitch and his counterparts to do so.
Marion and Kwan So were both.  
"They saw our importance and promise when we were very new, very small, with few faculty and few linkages, without a track record or alumni to show what we could do," recalled Gourevitch, founding dean of GPS. "Marion and Kwan So saw us as important to the university, to San Diego, to the U.S. and to the Pacific region."
Beginning with their first gift of $7 to UC San Diego in 1975, Marion and Kwan So—an international real estate executive and president of EVG Enterprises—have made an unwavering impact on UC San Diego by supporting undergraduate education, the health sciences, Scripps Institution of Oceanography and, graciously, GPS.
It's for these benevolences that the Sos received UC San Diego's 2016 Chancellor's Medal. Bestowed at UC San Diego's Founders Dinner on Nov. 18, the Chancellor's Medal is one of the highest honors given by the university to recognize exceptional service in support of the campus's mission. 
Charting a course of goodwill
Since their first humble gift to the Chinese Student Emergency Loan more than four decades ago, the Sos have dependably channeled their philanthropy across campus. This includes establishing the Ho Miu Lam Endowment Fellowship Fund in 1992 and, five years later, the Sokwanlok Distinguished Lecture Series.
In the past 10 years, in addition to supporting GPS's renovation and innovation funds, the Sos established the Sokwanlok Chair in Chinese International Affairs, held today by GPS Professor Barry Naughton, and the Ho Miu Lam Chair in China and Pacific Relations, formerly held by GPS Research Professor Susan Shirk.
"The Sos helped me greatly in my years as dean (of GPS), offering moral and personal support, building a network in the community and the campus," Gourevitch noted. "They were key in our ability to retain faculty like Barry Naughton and Susan Shirk, who thereby became a magnet to attract the excellent students who now make up our strong alumni base."
As one of the founding and longest serving members of GPS's International Advisory Board (IAB), formed in 1986, Kwan So generously lends his advice to aid the dean in achieving the vision and mission of the School. This year, he also joined UC San Diego's Foundation Board of Trustees.
At the same time, Marion So advocates for international education across UC San Diego, serving as a long-time volunteer and "Friend" of the International Center on campus. Committing more than 20 years to the center and donating to its resale shop, Marion So has also played an important role in encouraging undergraduate students to pursue graduate degrees.
Consider Candice Yu '10, who as an undergraduate student in international studies at UC San Diego received the So Family Endowed Undergraduate Scholarship for Education & Opportunity Abroad—which the Sos established in 2009—to study abroad at Fudan University in Shanghai. Upon her return, eager to advance her interest in U.S.-China relations, Yu applied and became one of the first students accepted to GPS's BA/MIA program. As a graduate student, she interned for Kwan So.
From organizing GPS students to row in the Chinese Historical Museum's annual dragon boat races to encouraging the founding of GPS's 21st Century China Center—the Sos have played a key role in making GPS what it is today and positioning UC San Diego as one of the world's top universities for research on contemporary China.
Committed to fostering U.S.-China relations
Leadership in the 21st Century China Center concurs that, without question, the research hub was made possible through the Sos involvement and encouragement.
"The center would not have been founded if it were not for their generous support," underscored Lei Guang, director of the 21st Century China Center.
As a member of the IAB, Kwan So encouraged the center's setup at the School's leadership level, and Marion So helped to rally local constituents—a task she continues today as co-chair of the center's local advisory council.
Shirk, chair of the center, echoed: "Kwan and Marion have been supporting UC San Diego for decades with a vision of how it could become an even greater producer of knowledge and how it could have a positive impact on U.S.-China relations. They envisioned what a successful China program would look like, they urged us to go for it, and their support and friendship made it happen. They are completely selfless."  
On a more personal level, Shirk said she was particularly heartened to hold the inaugural Ho Miu Lam Chair position at the School because it bears Marion So's name in Cantonese.
"She is kind of a big sister to me, graduated a few years ahead of me at Mount Holyoke College, and is a great role model of a vibrant, independent woman who relishes life and takes adventures all over the world," Shirk said.
In addition, Shirk said, without the help of student research assistants she was able to employ from her chair, she could never have written her books "China:  Fragile Superpower" and "Changing Media, Changing China." 
Inspiring philanthropy in others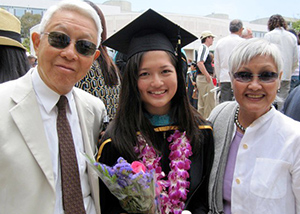 Not only have the Sos impacted countless students with their support, but they have also activated somewhat of a philanthropic domino effect.
"Kwan and Marion truly embody community leadership and global citizenship," said Yu, now a senior policy analyst for Mercedes-Benz Research & Development North America in San Francisco.
Reminiscing on the Sos generosity to share their personal experiences and views with her on global issues, Yu added: "They have inspired me to give back to my communities. Since graduating, I have served on nonprofit boards, mentored young students and contributed to various causes."  
Attending GPS years after Yu, Marika Heller, MPIA '15, also interned for Kwan So. She attests that during the experience, he and Marion So fostered and passed along lessons about the power of altruism.
"Kwan and Marion have taught me there is strength in your roots, in being a part of a bigger picture," shared Heller, currently a China analyst at Crumpton Group in Washington, D.C. "They taught me that by investing in your community, you receive far greater returns because you made a difference in people's lives. The multiplier effect of altruism is bigger than the mere money multiplier. For me, they are the embodiment of philanthropy in San Diego and one of the greatest reasons why I am proud to be a graduate of GPS."
View a video honoring Kwan and Marion So as UC San Diego's 2016 Chancellor's Medalists.