Experiencing the 'crossroad of the US, Asia and Mexico'
As part of his Pacific Leadership Fellowship, Enrico Letta derived new impressions of not only the EU-U.S. relationship but also the U.S.-Mexico one
By Sarah Pfledderer | GPS News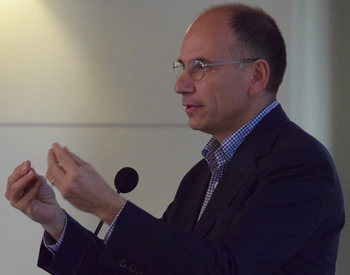 For four days, Former Prime Minster of Italy Enrico Letta found himself at a three-way junction he'd never traversed before, and every direction had his attention.
"Even in this period of the internet, geography matters," said the current dean of the Paris School of International Affairs at Sciences Po. "San Diego is at the crossroads of the U.S., Asia and Mexico. It's fantastic, the position. This is why I'm so interested and why I'm here. … And frankly, I have fallen in love."
As part of a Pacific Leadership Fellowship at the UC San Diego School of Global Policy and Strategy's (GPS) Center on Global Transformation from April 10-14, Letta experienced the binational region and its relationship with Asia through networking with academics and students across campus, as well as local business leaders outside of it such as at Qualcomm Inc.
In a more informal capacity, he also checked a huge item off of his bucket list: Attending a Los Angeles Lakers game.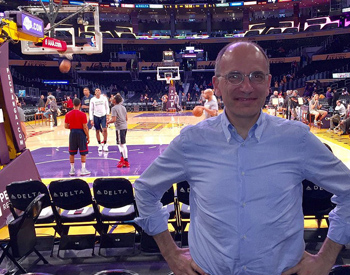 "I have been a fan of the Lakers since I was young," Letta said, and recollected on when at 12 years old his family purchased its first TV and he stayed up late to tune into the games. "Attending an NBA game in person was one of the best moments of my life."
Most importantly, he also travelled to Tijuana, Mexico, to see the border region firsthand.  
"The election of Donald Trump raised the importance of this visit for me because San Diego—a place where Mexico and the U.S. are so interconnected—is now under possible threat in terms of trade and the border," Letta explained.
In a sold-out public talk on April 12, Letta talked around this topic more but in terms of similar dilemmas in Europe as seen through Brexit and the migration crisis.
He also discoursed with GPS students in lectures and during meetups about the EU, international law and EU-U.S. relations.
"I was lucky in this short week to have had the opportunity to speak with some GPS students about these topics," Letta said. "I was very impressed they were interested in Europe and what is going on about Brexit, the elections in France and situations in Italy."
Letta added he hoped to have left GPS students with comparable impressions, particularly about Science Po being a global university. 
Letta also said he's now inspired by the innovative business methods he witnessed and nontraditional teaching methods he grasped in the U.S.
"In Europe, we are very traditional, less innovative," Letta explained.  "We have to learn the way in which pedagogic innovation can be applied. The traditional way to teach is finished in which the professor speaks and students take notes. Exchanges like the Pacific Leadership Fellowship are very important to us—all of us—to take experiences home and to innovate." 
As well, Letta echoed he is returning home with the belief that San Diegans are interested in bolstering the U.S.'s relationship with Europe.
And the feeling, at least in Letta's case, is clearly mutual.
Envisioning returning to San Diego with his family he said, in addition to making it to the beach next time, it might be worth looping in a campus tour for his three sons (ages 8, 10 and 12).
"Why not send them here to UC San Diego as students?" he mused.
View more photos from Letta's visit.